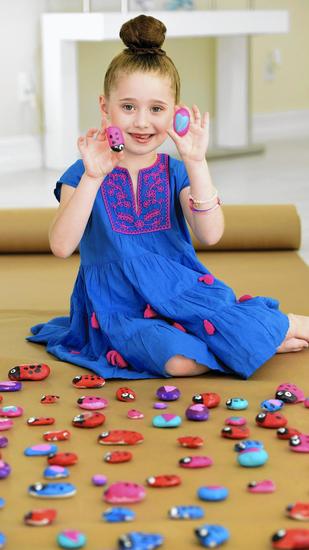 Ayel Morgenstern of Parkland may only be 6 years old, but according to her mother, Lauren Morgenstern, she is wise beyond her years.
The Sun Sentinel reports that when Ayel heard about the vandalism that recently took place in different Jewish cemeteries throughout the country, she felt sad and wanted to turn the hate into something positive. As a result, she hand painted hundreds of rocks to be placed on the tombstones that were vandalized.
More than 100 rocks went to the cemetery in St. Louis, and another 150 rocks were sent to the cemetery in Philadelphia. As of press time, additional rocks are being sent to the cemetery in Rochester, New York.
"I hope the rocks will uplift families whose family members were affected," Ayel said.
One of those families was Ayel's. Her great-great grandmother, Rebecca Pearl, is buried in Chesed Shel Emeth Cemetery, the decescrated resting place in St. Louis.
"It was on the news, and I happened to pull up the story on a website; and there was a picture of Rebecca Pearl's stone knocked down," Lauren Morgenstern said.
She noted that Ayel said, "Mommy, I want to help," when she heard the news.
Initially, the family talked about organizing a bake sale to help pay for the repair of the headstones that had been knocked over or damaged.
But Ayel remembered hearing about the Jewish tradition of placing small rocks or pebbles atop a headstone to honor the deceased.
Ayel decided that she wanted to paint two varieties of rocks: ladybugs for good luck and hearts for just a little bit more love.
She said she is happy that the rocks are going to be placed on the tombstones and that she loved painting them.
"I wanted to be kind and help the whole world," Ayel said. "I'm proud of myself. The Jewish religion is important to me, and so are the values."
The Morgensterns place a strong emphasis on Jewish values, celebrating Shabbat each week and attending Congregation Kol Tikvah in Parkland.
Ayel is in kindergarten at Park Trails Elementary School in Parkland. She said she wants to be a doctor and scientist when she grows up, because she wants "to help everyone in the whole world."
Morgenstern said her daughter is a truly gifted child who excels in so many different areas.
"She's very bright and excels in school. She's doing exceptionally well in science, math and social studies. She's reading at a high level for her age, and she was just nominated for Kids of Character. She's also a competitive dancer, and she also models. She just wants to do it all and is so proud to be able to do so many things."
Ayel believes kindness matters and that it will go a long way in life, Morgenstern said, noting that the family is beaming with pride over this latest project.
Lauren said she had chills when she heard that Jewish day school students placed the rocks on tombstones in the cemetery in St. Louis.
"To hear they were being placed on the tombstones there is incredible, and we are so proud of her that she is making a difference."
Ayel's father, Jared Morgenstern, said his daughter is a "very dedicated girl. She wants everything to be good, and she wants people to be nice. She doesn't like it when other kids at school are not nice to other kids. She tries to be friends with everyone and be nice to everyone no matter what."
"She's a girl on a mission to make a difference in the world."
Get OnlySimchas News Live Updates  by email and never miss our top breaking stories   
Read More at Sun Sentinel