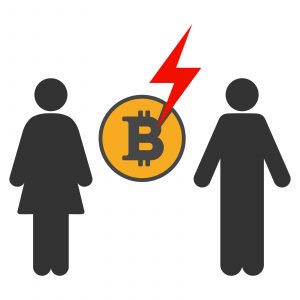 While some state authorities and financial regulators might deride bitcoin, more people are using the cryptocurrency in their everyday lives. This has recently become evident by divorce cases around the globe involving bitcoin, with the latest example coming from Israel.
Bitcoin.com reports a rabbinical court in Israel is now facing a bitcoin-related quandary for what appears to be the first time ever. The religious tribunal is asked to rule on the cryptocurrency in a matter of a specific divorce.
An Israeli couple, identified as a top female banker and a male executive at an investment firm, both in their early thirties, just got married three months ago. In the Jewish wedding ceremony the groom has to commit to pay the bride some compensation in case of a divorce. It is recommended that people will write a symbolic sum that they can afford, because if it comes to that they will be obliged to pay it in parallel with any alimony decided on by the civil divorce courts. However, in this case they decided on 30 bitcoin, worth about 2 million shekels at the time.
The woman testified that despite some guests doubting the gesture, "we thought it was neat and cool… in the old days they talked about fifty camels and a dozen silver coins, and today we talk about bitcoin."
This week the wife turned to the rabbinical court asking for her divorce compensation in the form of 2 million shekels. The husband agreed to pay as he is obliged, but only according to the exchange rate at the time of the divorce (much closer to one million shekels) than at the time of the wedding.
The woman claims that the man initially wanted to show off by writing down 2 million shekels but she convinced him to write 30 bitcoin instead, as the figure appears less off-putting. She said: "My husband is an investments man and I am a banker, and we had an understanding between us that bitcoin is a legitimate currency. If he would have not specifically mentioned the sum of two million shekels I would not have asked for its value at the wedding day." Now its up to the rabbinical court to decide how to resolve the issue.
This Israeli divorce is only one of numerous such cases around the world right now. Just one British law firm professes to be handling three such cases at present, with the largest involving a tug-of-war over crypto valued at $840,000.
(Source: Bitcoin.com)