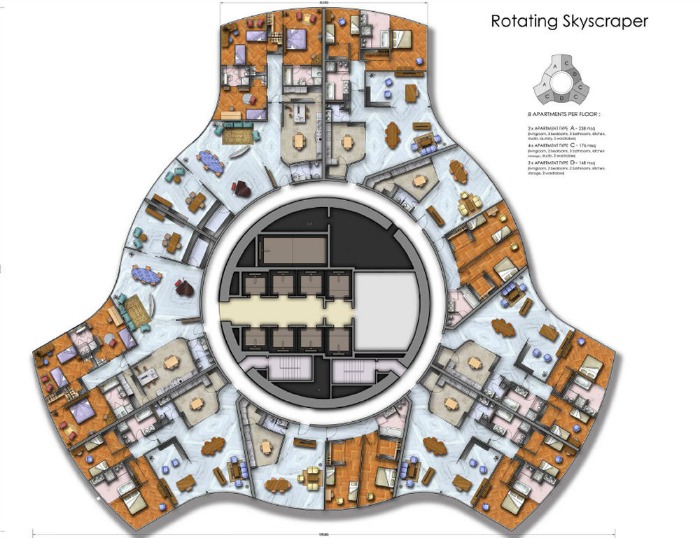 For $30 million you don't have to choose between a sea view or a city view. Israeli-Italian architect David Fisher has designed the world's first rotating skyscraper.
Fisher has had the Dynamic Tower Hotel in Dubai planned since 2008. Its grand opening is scheduled for 2020 and is expected to draw 25 million visitors to Dubai from all over the world. The opening is intended to coincide with that year's World Expo.
80 rotating stories, self-powered
The building will stand at 1,375 feet tall, with each of its 80 stories having the ability to rotating individually around a concrete core, offering 360-degree views of Dubai. Residents of the hotel will also be able to control rotation speeds and stop their apartment from spinning with voice commands. The skyscraper is expected to be completely self-powered, reportedly featuring as many as 79 horizontal-lying wind turbines between floors, as well as roof-mounted solar panels.
The Dynamic Architecture website states that the new hotel will offer "exclusive services, luxurious accommodation and facilities for the traveler with the most cutting-edge technologies, whether for business or leisure." It continues, "How many stars? This 'hotel' will be beyond stars."
$30 million per unit
With each apartment costing a whopping $30 million, the building itself is expected to cost over £355 million ($443 million).
According to UAE-based news and lifestyle website What's On reports, developer Dynamic Architecture has not yet secured a building site and there is no word yet on who plans to finance the project.
From Tel Aviv to Dubai
Born and raised in Tel Aviv, David Fisher, the mastermind behind the project, left Israel to attend the University of Florence, where he would later serve as a lecturer of architecture and structural engineering. In the mid-1980's he got involved with developing and building hotels. Fisher is the founder and chairman of Dynamic Architecture Group, the designer of the rotating Dynamic Tower. This is the world's first building in motion, and is Fisher's first skyscraper design.
The basic concept, however, is not without precedent. The 2001 Suite Vollard in Brazi has independently rotating floors. Fisher, who has planned similar buildings in London, Paris, New York and Moscow, previously said that he did not want to reveal too much about the Dynamic Tower project because he wanted to maintain an element of 'surprise'.
Watch a video explaining the skyscraper here:
Get OnlySimchas News Live Updates  by email and never miss our top breaking stories